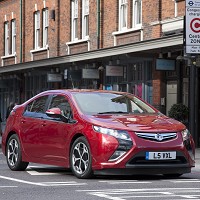 Vauxhall's Ampera has been named the Green Model of the Year at the 2013 Business Car Awards.
Business Car magazine readers gave the Ampera, which arrived in UK showrooms last year, the nod in the poll.
The vehicle has a normal battery covering around 25-50 miles, before a a small range-extender motor takes over to cover a 300-plus mile range.
Unlike hybrid vehicles, the Ampera's wheels are electrically driven at all times.
In addition to the prestige of owning an award-winning motor, Ampera owners could also enjoy cheaper car insurance premiums as part of the benefits of driving a sustainable vehicle.
The Ampera is available from £29,995, which includes the £5,000 Government grant, for the Earth model.
Paul Barker, editor of Business Car, said it was no surprise to see the Vauxhall Ampera coming out on top in the survey.
He pointed out that if it is used effectively, the vehicle provides substantial benefits, such as cheaper fuel bills, as well as the National Insurance and car tax boosts that come from such an ultra-low emission car.
Duncan Aldred, Vauxhall's Chairman and Managing Director, said: "Ampera is a technological masterpiece."
Copyright Press Association 2013