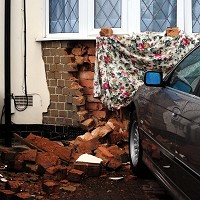 Most drivers would consider their car to be safe when parked on their driveway, but one owner had a lucky escape when his smashed through the front wall of his house.
The parked BMW saloon was hit by a van and the force of the collision pushed it through the lounge wall of the terraced home in Parkgate Road, Coventry, Warwickshire, in the early hours of Tuesday morning, according to West Midlands Fire and Rescue Service.
The incident underlines the importance ofcar insurance . Luckily there was no one in the BMW and although the house was occupied, the man inside only needed a medical check-up as a precaution.
A spokesman for the fire service said the driver of the van got himself out of the vehicle before fire officers arrived on the scene. He was treated in hospital for minor injuries to his face.
The fire officers made sure the two vehicles were safe and a structural engineer made a survey of the damage to the house.
Copyright Press Association 2013