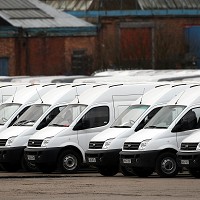 A vehicle auctioning company has reported a rise in the average values achieved for light commercial vehicles during August.
British Car Auctions (BCA) said that traditionally there is a fall in used van prices during the month, and has linked the increased demand to a lack of stock available in the market.
Duncan Ward, BCA's general manager commercial sales, said: "Supplies of good retail quality vans were relatively limited and buyers were bidding strongly for the best examples - particularly from the fleet sector where competition was intense.
"A number of corporate vendors recorded 100% sales conversions for the first time, and many sales averaged over 100% of CAP across the board."
Van sales recorded an average 101.67% of CAP Clean in August with all three sectors averaging more than 100% of CAP Clean in the same month for the first time.
"As this has occurred in a month that usually records weaker prices, this could yet mark a significant point in the price recovery for LCVs," said Ward.
"If such a rise had occurred in September, it would have been equally welcomed by vendors, but much less notable. It remains to be seen if the market is going to march on into the Autumn months and perhaps consistently register values to compare with the market highpoint in early 2008."
Copyright © Press Association 2009