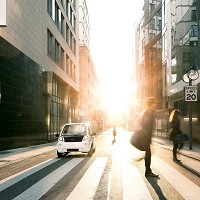 Businesses in the UK will soon be able to use fully-electric commercial vehicles.
The electric van maker has agreed a deal with importer Venture Automotive Holdings to bring its vehicles to the UK.
Mia-Electric will build the new van in France using similar equipment and chassis as its other products it describes as fun, unusual and striking. The new van does not yet have a name but its importer, which will be trading under the name Mia-Electric UK, insists that it will be practical. Abreakdown of figures of the company's other models shows they have ranges of more than 70 miles before they need a five-hour recharge.
The managing director of Venture Automotive Holdings, Paul Evans, said he believes there is a place for electric vehicles among businesses in the UK. He said that realistically that place involves short journeys and urban motoring where the cost and emissions benefits will be most evident.
The launch of the new electric van will come after changes to the London Congestion Charge next month when the only exempt vehicles will be those that emit 75 g/km of CO2 or less. This is only currently possible with plug-in hybrid or fully electric vehicles.
Copyright Press Association 2013