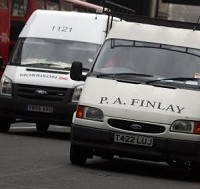 A hit-list of motoring hate figures once again clearly shows that van drivers are the prime target for just about everybody.
In a poll for Auto Trader Compare, a solid 100% of motorists voted White Van Man the worst, followed by the young, the old - and school-run mums.
Car-wise, BMW owners fare worst, followed by Porsche, Audi and Mercedes-Benz. Best of the bunch are bus and lorry drivers.
Meanwhile, Ford owners make the most insurance claims, possibly linked to the fact that the US automaker constantly heads the best-seller table.
The survey also shows that 37% of men think they are better drivers than women; Londoners are the worst drivers in the UK; `Sunday drivers` are the worst, period, followed by rush-hour drivers; 77% of us want to `drive green`, and Toyota owners are the the most environmentally-conscious.
Said AutoTrader.co.uk marketing director Matt Thompson: "It's good that most motorists recognise bad driving habits, both in themselves and other road users.
"However, the important thing is that motorists change these bad driving habits, because with the rising cost of motoring, it is well worth driving responsibly to stay safe and ensure your insurance premiums stay low."
Copyright © Press Association 2009