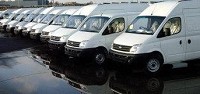 Transport Secretary Andrew Adonis has launched a new van carbon dioxide online database to help motorists choose the most eco-friendly and fuel-efficient models.
The database contains information about the fuel consumption and CO2 emissions of new van models on the UK market to help buyers make comparisons.
Mr Adonis said: "It's important to help motoring consumers make the right choice, both for themselves and for the environment.
"This database is good news for van buyers - it gives them access to emissions and fuel consumption information that could well shape the van they choose, as well as enable them to cut emissions and save money."
Nearly 15% of transport emissions in the UK come from vans. By purchasing the most fuel-efficient model, an average buyer can slash both emissions and costs by up to 17%.
The online database - the biggest of its kind in Europe - has been compiled by the Vehicle Certification Agency (VCA), Society of Motor Manufacturers and Traders (SMMT), and Department for Transport (DfT).
SMMT chief executive Paul Everitt said: "Van makers are all committed to providing information that will help buyers make better informed choices and this database provides a level playing field for easy comparison."
Copyright © Press Association 2009