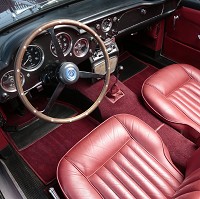 Sir Peter Ustinov's old DB4 is headlining Bonhams' biggest sale of Aston Martins next month.
Experts believe the Series IV Vantage Convertible formerly owned by presenter, raconteur and actor Sir Peter could go for a figure approaching £1 million.
The former Sundowners and Quo Vadis star, who died in 2004 aged 82, owned many motors and received the 1962-built iconic model (reg 911 CGT) at Switzerland's Montreux Palace Hotel.
Just eight other such left-hand drive models were ever made.
The DB4's logbook then passed through the hands of various owners, such as David Piper the racing driver. It is currently in a Swiss private collection and has had very little road action recently. Bonhams cautioned potential buyers that the classic car will need "careful commissioning" before road use.
This and more than 50 other spectacular Lagondas and Astons will be offered to motorists hopeful of buying a car from the auction at Newport Pagnell's Aston works. It is being staged on Saturday, May 9.
Right behind this beauty in terms of price expectations comes the DB4 4.0-litre Series IV Convertible, also manufactured in 1962, which is likely to attract a winning bid up to £900,000.
A DB2 Drophead Coupe (1952), initially driven by Sweden's Prince Bertil, is expected to sell for £300,000, while 170 automobilia lots are also going under the hammer.
Tim Schofield, motor cars head for Bonhams UK, spoke of the auction's prevalence of scarce left-hand drive models, occupying over one in four of the vehicle lots. Mr Schofield called them "incredibly rare".
The event is being staged at Aston Martin's Newport Pagnell premises in Tickford Street, Buckinghamshire, MK16 9AN.
The auction is part of a series of activities that weekend to commemorate the UK marque brand's 60th anniversary. Activities include a special premier lunch and a Woburn Abbey-based Spring Concours for Aston fans.
Aston Martin recently announced that it is targeting Chinese and Middle Eastern markets in a new sales push abroad.
Copyright Press Association 2015