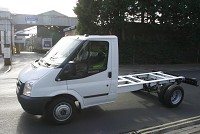 The average value of used vans rose further during September due to the continuing shortage of good-quality vehicles in the market, according to British Car Auctions (BCA).
Its data shows that average light commercial vehicle values rose by £117 during the month - a 3% increase from August.
They are currently on a par with the January 2008 peak and £672 above the values during the same period last year. The only drop seen during the month was in the price for nearly new models, which fell by £227.
But BCA said the growth was expected since September values traditionally represent a peak in the annual price cycle.
Duncan Ward, BCA's General Manager Commercial Vehicles, said: "We expected September values to be strong and that has certainly proved to be the case. With supplies of good retail quality vans remaining limited in September, prices remained very firm indeed.
"However, if supplies begin to increase significantly from corporate and dealer sources we could be seeing the current peak of market values - and it could be that values settle a little between now and Christmas.
He warned that it would be "unrealistic" for the values to keep rising, but added that "these are exceptional times and the overall market is certainly firing on all cylinders."
Copyright © Press Association 2009