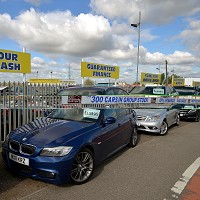 The value of used car sales hit a record high of £45.1 billion last year, figures from British Car Auctions reveal.
Year-on-year sales rose by almost 6%, with a total of 7.2 million used cars sold according to the latest used car market report.
When combined with new car sales figures, more than ever was spent last year, at £88.5 billion.
A total of 2.5 million new cars were sold, giving a ratio of 2.9 used cars sold to every 1 new car, according to British Car Auctions (BCA).
Spencer Lock, group managing director of BCA, says the report provides a valuable perspective on the UK automotive industry.
The "combined market churn of 9.7 million cars" is one of the highest figures on record, with only 2003 recording a higher volume in recent years, he points out.
The report also shows that motorists are buying older cars. The average age of a car sold in 2014 was 7.8 years, which is a year older than a decade ago. This is because fewer new cars were sold following the onset of the economic crisis.
However, BCA believes continuing strong new car sales will cause the average age to start falling again. Mr Lock expects the shape of the used car market to change, as the new cars sold in the past three years or so start to feed into the sector in greater volumes.
"Dealers that have had to focus increasingly on older vehicles should find growing volumes of younger used cars available to meet the needs of their customers," he says.
Car ownership is also on the rise, from a five-year low of 69% of households in 2014, to 75% in 2015.
Of the 12% of motorists who are likely to buy a car in the next 12 months, almost three-quarters (72%) say they will buy second-hand.
Price remains the biggest influence in what buyers look for when buying a suitable car, at 58%, followed by running costs at 37% and brand at 32%.
Of the 4,000 used car buyers surveyed, 34% visited just one forecourt before purchasing a vehicle in 2014, while 20% visited up to five before sealing the deal.
Copyright Press Association 2015