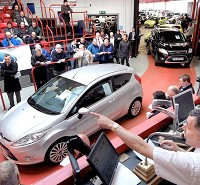 Prices of used cars have reached their peak and are set to fall from October onwards, according to experts.
A shortage of used-cars meant values had been increasing, but a surge of nearly new models is set to hit the market after the introduction of the new 59-registrations next month, said valuation expert Glass's.
Managing editor at Glass's, Adrian Rushmore, said: "The improvement in prices this year was largely due to the much lower level of used-car supply."
He explained that prices are levelling out now as the "correction is complete", and said the "trade price of a car, plus a dealer margin, now equals the retail price that customers are willing to pay".
Mr Rushmore said prices will start to fall as some dealers make their margins smaller in a bid to attract buyers.
Glass's predicts there will be fewer vehicles coming onto the market compared with previous years, but prices will be affected.
Copyright © Press Association 2009