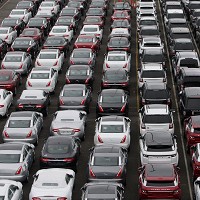 CAP Automotive has revealed used car trade values are on the way back up as the market recovers from April's blip.
CAP's Black Book Live real-time valuation tool indicates increases in used car volumes in May.
The impressive performance of the new car market means more part-exchange vehicles in franchise dealers, which lessens their need to find used car stock in the open market.
The result has been a drop in demand at auction, along with a rise in supply as dealers auction off their unwanted, older part-exchanges.
Black Book Live said this has led to faster depreciation for older vehicles as their numbers go up.
CAP feels the outlook is positive for the market despite recent struggles.
Black Book Live senior editor Derren Martin said: "Evidence from the marketplace shows every sign of confirming our prediction last month that the downturn in values would be short term.
"Over the next few weeks we expect more typically seasonal downward adjustments to values as the increase in used car volumes begins to diminish."
Copyright Press Association 2013