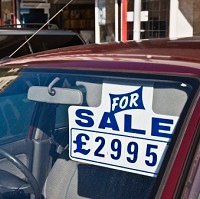 Consumers complain about used cars bought from independent dealers more than anything else, new figures show.
The year to February saw complaints lodged by 45,000 used car buyers with the third commonest gripe - totalling 11,500 - being about repairs carried out by an independent garage .
The figures, which revealed that more than half a million people complained about shoddy products worth £3.5 billion over the 12-month period, have prompted Citizens Advice to call for retailers to display information about consumer rights in-store and online.
The second most commonly complained about item was mobile phone contracts, which drew 12,000 complaints.
Meanwhile, a Which? study has found shoppers cost themselves some £1.2 billion last year by failing to exercise their right to take goods back.
The consumer watchdog is launching a new website to coincide with World Consumer Rights Day to help people get their money back and giving advice on everything from shopping rights to travel complaints.
Gillian Guy, chief executive of Citizens Advice, said displaying consumer rights would help prevent arguments between confused shoppers and a badly informed staff and indicate which retailers can be trusted.
Copyright © Press Association 2013