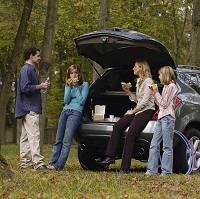 Nearly 6.5% of wives have bought a used car for their husband, according to recent research.
A total of 47 out of 728 married women surveyed by Experian had bought their hubbies cars - although married men buying cars for their other halves was much more prevalent, at 28%.
Children have helped mums and dads get a new set of wheels, too - with 6.2% of fathers and 7.7% of mothers benefiting on all those years of providing loans from the Bank of Mum and Dad.
Just under 8.8% of boyfriends had bought their girlfriends used cars, while 3.3% of girlfriends showed similar generosity, according to the survey.
But no matter who buys your motor - or even if you treat yourself - it always pays to have decent breakdown cover , especially if you've bought a used car.
Workmates were surprisingly generous too.
Although a cup of tea and a biscuit might be all you could hope for from colleagues, 3.4% of workers claimed to have bought a car for a workmate. Much more common (at 10.9%) was buying a vehicle from colleagues.
And a spot of business between friends was also reported, with 6% of people overall - 8% of men - having bought a used car from someone they knew in a social context.
Copyright Press Association 2012