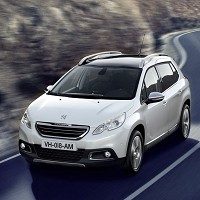 No used car model sold faster last month than the Peugeot 2008, a new survey reveals.
According to Glass's the crossover SUV was on forecourts for an average of just 24.8 days in April.
In second place was the Rover 25 with 28.6 days, which is seen as surprising as the last models rolled off the production lines in 2005.
Another crossover SUV was third, the Nissan Qashqai with a total time of 28.7 days, proving the popularity of sports utility vehicles in Britain.
Audi performed particularly well with four cars in the top 10, Rupert Pontin, Glass's chief car editor noted.
He thinks the A1 sports car, which rose from eighth in the 2013 list to fourth place this year, could eventually rise to the top because of the high demand for Audi vehicles.
At the opposite end of the scale, the Mini Spaceman model is taking 96.1 days to shift on average. Another Mini, the Roadster, tends to stay on forecourts for 74.8 days.
Mr Pontin said Minis usually sell well but he fears the expanded Mini range has yet to grab the full attention of drivers.
Copyright Press Association 2014