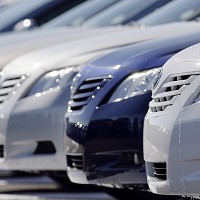 The US government's probe into Toyota cars following 161 complaints of vehicles catching fire has been widened and 600,000 Camrys and other vehicles have been added to the analysis.
The investigation began in February with more than 800,000 Camrys and RAV4 SUVs from 2007. With the added cars, 1.4 million vehicles are now being probed, all made from 2007 to 2009.
The National Highway Traffic Safety Administration (NHTSA) announced that the added cars include: certain Camrys from 2008 and 2009, some Yaris subcompacts from 2007 to 2009, and all 2008 Highlander Hybrid SUVs.
Toyota and the government received 161 complaints that drivers had to usebreakdown cover because their doors had caught on fire. From these, nine people were injured.
The government also revealed that all vehicles being investigated have the same kind of power window switch that can overheat and self-combust. The investigation has now gained the status of engineering analysis which could result in a product recall.
Copyright Press Association 2012