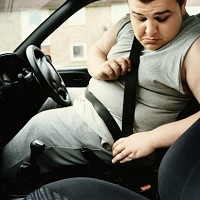 Those who spend many hours behind the wheel driving to and from work are more likely to be overweight, according to researchers.
A study published in the American Journal of Preventive Medicine found a link between the distance travelled by workers and their weight.
Those who travelled for long periods were also more likely to suffer high blood pressure and poor cardiovascular strength.
Some 4,300 respondents were questioned in the cities of Austin and Dallas-Fort Worth, Texas - some of the busiest urban regions in the US.
Research leader Christine Hoehner, of Washington University in St Louis, suggested travelling longer distances may mean drivers use less energy.
Health experts recommend all commuters partake in some form of exercise when not behind the wheel.
But people who drove more than 15 miles tended to have fewer opportunities to engage in sport or fitness compared to those who worked close to home, the study found.
"This study yields new information about biological outcomes and commuting distance, an understudied contributor to sedentary behaviour that is prevalent among employed adults," Ms Hoehner added.
Copyright Press Association 2012