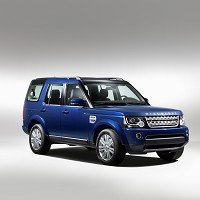 Motorists ordering the 2014 Land Rover Discovery will be delighted to learn that the new model is to contain a number of upgrades, including improved fuel consumption and more up-to-date audio systems.
Available to order now, with delivery starting from the middle of November, other updated options will include a new exterior look, a different badge and a range of driver assistance features.
Land Rover global brand director John Edwards said: "As one of the world's most stylish, capable and versatile SUVs, the Discovery is the perfect vehicle for people who enjoy living an active lifestyle to the full."
The 2014 Discovery will sport a new face, including a new front grille, front bumper, headlamp design and two new alloy wheel designs to pick from. Fuel consumption will be improved to 35.3mpg, with CO2 emissions going down from 230g/km to 213g/km, thanks to the class-leading 256PS 3.0 SDV6.
Mr Edwards said: "The hugely popular Discovery continues to move from strength to strength and the addition of improvements in fuel economy and emissions underpins our commitment to delivering power with sustainability."
Copyright Press Association 2013