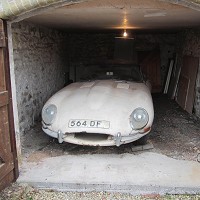 A classic Jaguar that has been off the road for nearly 30 years fetched three times its expected value at a recent auction, with the buyer forking out more than £100,000 for the car.
Bonhams auction at the RAF Museum in Hendon, north west London was the scene of the Jaguar E-Type roadster seeing the light of day for the first time since it was hidden away in a garage in the early 1980s.
As one of the earliest surviving examples of the right-hand drive model, the car was originally bought by its owner in 1965.
The unrestored Jaguar, which will now prompt an intriguing car insurance premium, was expected to raise between £25,000 and £30,000, but was eventually bought for £109,020.
However, the auctioning of the 98 vintage vehicles in total, did not raise the values previously expected, with an estimated £3 million combined worth only bringing in £1.7 million in sales.
Among the top lots that remained un-sold were a 2004 Ferrari Enzo Berlinetta and a rare 1958 Mercedes-Benz 300SL Roadster, which between them should have raised around £1.4 million.
There was also no buyer for the cover lot 1929 Bentley 405-litre Tourer, which was expected to raise £400.000.
The Goodwood Festival of Speed, held in West Sussex in July, is the stage for the next Bonhams major motor sale, where lots will include a 1954 Formula 1 Mercedes Benz, which Bonhams claim could raise £5 million.
Copyright Press Association 2013