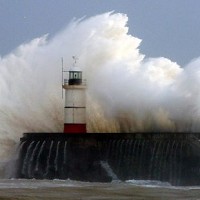 Autumnal weather will arrive early this week in the form of cool temperatures, high winds and even ground frost.
According to The Met Office, some parts of Northern England and Scotland will see winds of up to 50mph as well as unseasonal cold weather. Forecasters have put coastal areas on alert, predicting that the wind could whip up large waves.
Meanwhile transport links could be affected by the weather, which has already seen gusts of up to 50mph hit the North West.
According to the Met Office's chief forecaster Eddy Carroll, such strong winds are not uncommon in autumn and winter but could cause more disruption during the summer holidays, when many people are taking part in outdoor activities. The weather will also cause disruption on the roads, with drivers urged to leave plenty of time for all journeys .
There are yellow warnings in place in some parts of the country with blustery and wet weather expected.
With temperatures falling well below the average for this time of year, the possibility of ground frost in the early mornings has not been ruled out.
Calum Maccoll from the Met Office said the weather would be worst in northern areas, where it would feel "autumnal" and "unseasonably cool".
Copyright Press Association 2014