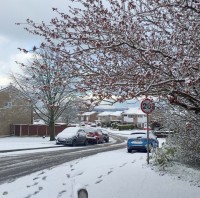 The message for drivers making bank holiday journeys this weekend is to expect anything when it comes to the weather.
Hugely unpredictable snowfall and sleet has caused disruption to those making an early start to the May Day weekend.
North will bear the brunt
With the north of England bearing the brunt of the unseasonal downpours, motorists have been warned by police and motoring organisations to take added caution on the roads.
RAC spokesman Rod Dennis said: "We're expecting 20 million leisure journeys to take place before the end of the bank holiday, a similar volume to Easter. Motorists getting away this weekend are no doubt hoping for a taste of warmer weather, but might actually encounter four seasons' worth of weather in one day.
"While wintry showers should be few and far between, motorists will be contending with a seasonal but tricky combination of sun, wind, rain and ice.
"Get prepared for a few jams by making sure you have enough food and drink packed for your passengers, and plan some games to keep the kids amused."
More snow around the corner
Forecasters have predicted further snow, sleet and hail as May approaches.
Commuters in northern England and southern Scotland awoke on Friday to yellow warnings of snow, while showers of rain and sleet are expected to hit lower levels.
Throughout the day the band of wintry weather carrying thundery downpours is due to move towards the south and east, with occasional sunny spells accompanied by a stiff breeze.
Ahead of the cold front, temperatures are expected to reach 13C (55F) in the South East, while the mercury will creep past 8C (46F) in most parts.
Met Office forecaster Helen Roberts said: "The remnants of the system that is bringing snow across southern Scotland and England will be lingering into Friday evening, predominantly in the north east of England.
"Mostly it will be rain showers and a wintry mix of snow, sleet and hail for the rest of the country."
Hail was expected "just about anywhere", she said, adding: "Later in the day we are most likely to see hail cause trouble on the roads if the ice builds up as conditions become slippery."
After a cold night on Friday, a keen frost is expected to follow on Saturday morning, although the best conditions of the weekend are expected later on.
While it will be a fairly dry day for many, showers are likely in eastern parts of the UK.