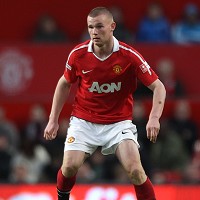 Manchester United midfielder Ryan Tunnicliffe has been banned from the roads for 18 months for drink driving.
The 19-year-old footballer, of Clemshaw Close, Heywood, pleaded guilty to the offence at Bury Magistrates' Court.
The court heard that Tunnicliffe had drank "a lot" of alcohol with members of his family hours before crashing his luxury Range Rover into a parked van in Heywood.
The Ford Transit was shunted five metres into a stone wall of a house. As well as the damage caused to the van and property, Tunnicliffe's vehicle was written off.
No-one was seriously hurt in the incident, but a friend of Tunnicliffe, who was sitting in the front passenger seat, sustained minor injuries.
The driving ban may be reduced by up to four months after the young footballer said he would be interested in attending a drink-drive rehabilitation course.
As well as a ban, Tunnicliffe was fined £800, and told to pay prosecution costs of £85 as well as a victim surcharge of £80.
When he is allowed to drive again it is more than likely his car insurance premium will have been raised significantly.
Copyright Press Association 2012