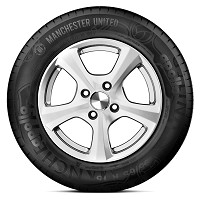 The growth of branded accessories and merchandise has left the modern football fan spoilt for choice when it comes to ways of showing allegiance to their team.
But Manchester United fans now also have the chance to back their club's drive for success by showing off their support as they clock up miles on the road.
And while supporters of other teams may be left feeling deflated at having to make do with a scarf draped across the parcel shelf, or a mini-kit stuck on the rear windscreen - United fans can now put branded tyres on their cars.
Apollo, the club's official tyre partner, has launched the branded tyres, which are available from £60 each from Event Tyres near United's Old Trafford stadium.
Event Tyres' sales and marketing director Jianni Geras says it is hoped the tyres will help United fans join their team on the road to success this season. Fans are asked to register their interest in the product via Event Tyres' website.
Apollo's link up with Manchester United, meanwhile, will see it installing all-weather football pitches - made from recycled tyres - in both the UK and India.
Richard Arnold, Manchester United's group managing director, says the partnership will help drive the club's commitment to developing young people.
Copyright Press Association 2014