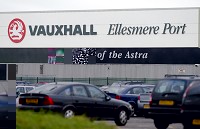 Pressure has been maintained on Canadian car firm Magna to protect the two Vauxhall plants in Ellesmere Port and Luton.
Union leaders from Unite have held a number of talks with the carmakers' owner and the UK Government in order to secure the future of the two locations.
Tony Woodley, joint leader of Unite, revealed there are no long-term guarantees but talks would continue.
He admitted around 1,000 jobs would be cut in the UK if the Vauxhall factories were to close, and said "the situation is very serious".
He added that over 400 other firms rely on Vauxhall for business, employing a total of close to 25,000 people.
Mr Woodley admitted with no guarantees of future investment, the UK factories face "major problems" beyond 2013.
He had already accused the German government of a "political stitch up" after it made an huge money offer to Magna, which he said was aimed at securing jobs in Germany.
Copyright © Press Association 2009