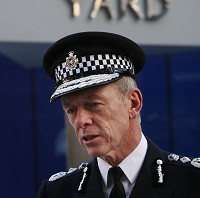 The Metropolitan Police and London Mayor Boris Johnson have stepped up efforts to crack down on uninsured drivers in the city.
There is no hiding place for those who have the audacity to drive withoutcar insurance now that Operation Cubo has been implemented.
The initiative, which has been hugely successful, sees uninsured vehicles seized and either auctioned to help pay for the cost of policing or squashed into cubes and scrapped.
Not all of the cars seized are typical everyday vehicles, with Bentleys, Aston Martins, Porsches and a Lamborghini all snared by police as part of the operation.
More than 1,250 police officers are involved in Operation Cubo and it is being supported by Mr Johnson, who climbed on top of an uninsured car that had been squashed into a cube to send out a strong message to those drivers who have not got the correct car cover.
Metropolitan Police Commissioner Bernard Hogan-Howe said: "Don't drive a car uninsured in London. We've seized 44,000 cars this year - that's a third more than we've ever seized, the largest in the country.
"We've managed to sell lots of them and got £1 million for the public good.
"We've crushed some of them, as you can see, so they don't get them back."
He added: "We knew that around 80% of uninsured drivers are criminals and are more likely to be involved in crashes."
Copyright Press Association 2012