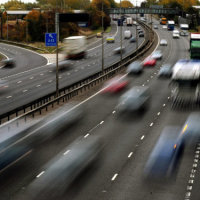 A boy of 11 and a 12-year-old girl were among the hundreds of children caught driving without insurance over a 12-month period, new official figures obtained by the RAC reveal.
A total of just over 100,000 people were convicted of the offence in 2014 - 6% less than in 2012 - and also included, at the other end of the age spectrum, a 94-year-old man and a woman of 88.
The RAC says the figures only represent "the tip of the iceberg", adding that an estimated one million people are driving without , putting themselves and others at risk.
The motoring organisation is calling on the Government to help combat the problem by introducing measures to reduce insurance costs, particularly for young drivers.
The DVLA figures, obtained through a Freedom of Information request, show 991 children - 961 boys and just 30 girls - under the age of 17 were caught driving without insurance in 2014, 21% more than in 2012.
Over 15,000 non-licence holders of all ages were convicted of the offence, a rise of 6% compared to 2012.
The number of male full licence holders caught driving without insurance, meanwhile, totalled nearly 46,000 compared to just under 13,000 females. Those totals included 992 men and 176 women aged 65 and over, representing increases of 23% and 19% respectively.
RAC Insurance director Mark Godfrey says the figures reveal that a "shocking" number of children are driving before they are old enough to even apply for a provisional licence.
More work needs to be done with younger people, he says, to raise their awareness of the risks posed by driving without a licence or insurance.
He adds that the RAC would like the Government to exempt young drivers with insurance policies - encourage them to drive more safely - from Insurance Premium Tax.
Mr Godfrey says the 100,000 people convicted in 2014 represents just 10% of the estimated one million uninsured drivers, adding: " Anyone who drives without insurance is not only breaking the law, they are also selfishly putting others, as well as themselves, at financial and legal risk."
Copyright Press Association 2016. Motoring News articles do not reflect the RAC's views unless clearly stated.