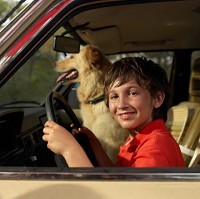 School children across the UK can now experience what it is like to drive a car, despite not being old enough to sit a driving test.
Young Driver At School is a trial project designed to give people under the age of 17 a taste of life as a motorist.
Practical activity is mixed with theory to give a head-start on understanding what is required to become a safe driver.
Previous participants have been monitored and the scheme's organisers say the pre-age training has led to dramatically fewer accidents than what is normal for 17 to 24-year-olds.
The project, backed by several motoring organisations, has been expanded to operate out of 28 centres, of which two are in Scotland and one is in Wales.
Lessons can be taken on school grounds and children have the added safety net of using only dual-control cars.
Project director Kim Stanton said: "Learning to drive is no different to learning a language or a musical instrument: you learn better at an earlier age.
"We have already delivered over 100,000 lessons to under-17s and our research shows that learning to drive at school age halves the likelihood of accidents and saves lives."
Meanwhile a recent survey by car magazine Auto Trader suggests that three-quarters of UK motorists (77%) want the national school curriculum to include driving lessons.
Copyright © Press Association 2013