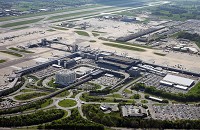 A car parking space in Hampshire has been voted the worst in Britain in a poll conducted by financial services firm Aviva.
The dubious accolade went to the Alton Business Centre after it was nominated by 18-year-old Jamie Dickinson.
He described it as a "nightmarish space". Mr Dickinson said: "Being sandwiched between two walls and the two other sides blocked by cars meant my car was cornered in and I was trapped after a meeting."
Over the past month, the public have been nominating spaces across the UK that made parallel parking and manoeuvring near impossible tasks.
Among the nominations were two at Gatwick Airport's short stay car park, and one space at Stansted Airport. Car park spaces at University Hospital Llandough, Sunderland Royal Hospital, and Western Park Hospital, Sheffield, were also nominated.
Other spaces put forward as some of the worst in the country included one next to the rowing club in Putney, and at Blackpool's West Street car park.
Copyright © Press Association 2009