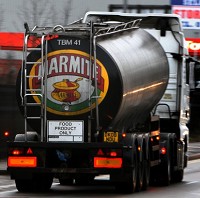 Some of the weirdest road spillages which have brought Britain's traffic to a halt have been revealed in a new list.
Marmite weighing 20 tonnes was among the stranger items to hit the road, revealed by the organisation which deals with England's leading highways.
Highways England's (HE) officials revealed the list after 24 tonnes' worth of lard was dropped on the Epping stretch of Essex's M11. This caused a 24-hour road closure.
The RAC Foundation says it welcomes a recent Government pledge to get roads swiftly operational again after such spillages. The charity has been responding to the list, which includes 6,000 chickens, raw human effluent and a four-figure amount of tinned beer.
Animal blood and chilled liquid oxygen also appear on the bizarre inventory.
Last year the M11 also had acid spilt over its lanes around Stansted Airport, with a section closed for hours.
The HE has been explaining why clean-up operations can sometimes take so long. Melanie Clarke, the body's customer operations director, says the more complicated the spilt cargo, the more complicated the mopping-up job.
She cited "unexpected" spillages such as 10 tonnes' worth of salmon, emulsion paint and hazardous poisonous chemicals.
Ms Clarke says the Agency understands motorists' frustration when such spillages cause delays. But she assured people that it does everything it can to get the roads back clean and operation as soon as possible after a spillage.
The RAC Foundation's director Steve Gooding said: "Congestion costs the economy an estimated £8 billion annually.
"It is understandable that it takes a while to clear up some of these stranger substances but being stuck in jams is not a Marmite issue: everyone detests it and we welcomed the last Government's commitment to open roads more quickly after incidents.
"With the population - and hence traffic - set to rise significantly in coming years, even a few hundred gallons of spilled milk is enough to make drivers weep."
Copyright Press Association 2015