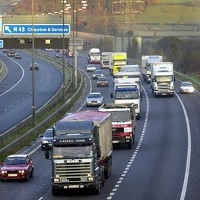 Drivers and politicians will be asked to 'Love the Lorry' during a national awareness campaign run by the Road Haulage Association (RHA).
The slogan forms the central theme of the RHA's National Lorry Week and aims to boost awareness of the crucial contribution that haulage vehicles make to the economy.
Starting on October 26, the week will see hauliers giving members of the public a chance to have a look at their fleets and meet their drivers.
The RHA will be promoting the career opportunities offered by the industry, which employs well over two million people, in a bid to address a national shortage of drivers.
Hauliers, meanwhile, are being urged to display 'Love the Lorry' stickers on their trucks as part of a spot the sticker contest, which will offer a first prize worth £1,000.
The week will also see a nationwide radio campaign, the screening of a TV documentary, charting professional racing driver Tom Ingram's training to become a lorry driver, and a reception in Parliament when MPs will get a chance to try their hand at a lorry driving simulator.
Richard Burnett, the association's chief executive, says the week will give the industry a chance to highlight the £74.5 billion contribution it makes to everyday life.
He says well over four-fifths of all the food and other goods bought by UK shoppers are transported by lorries registered in Britain.
Without the vehicles, he adds, the entire economy would grind to a shuddering halt.
The RHA represents firms operating around 100,000 lorries in the UK.
Copyright Press Association 2015
https://www.rha.uk.net/events/national-lorry-week (National Lorry Week)