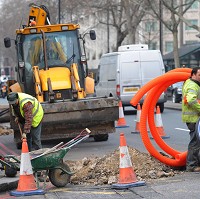 The UK's local transport infrastructure has been rated "at risk" in a report by engineering experts.
The Institution of Civil Engineers (ICE) gives local transport a minus D rating - on a scale of A to E.
The ICE called on the Government and local authorities to establish "a more-ambitious, joint programme to clear the road maintenance backlog, and commit to a more cost-effective, planned, preventative maintenance regime".
The engineering experts say control over transport should be devolved to local bodies to create more joined-up transport authorities in cities and regions.
ICE vice president Keith Clarke, who led the report team, said: "As the 2013/14 winter floods showed, unplanned interruptions in our networks are costly to society and the economy.
"They happen because we are trying to run all services at all times, and are deemed unacceptable as the public expect a certain level of service. Government ultimately bears the risk for the resulting impact."
The ICE warns that future extreme weather will make it increasingly difficult to operate infrastructure networks in all conditions at the level people expect.
Infrastructure cannot be resilient to every eventuality and a shift in the public's expectations on availability will be needed, the report also states.
Copyright Press Association 2014