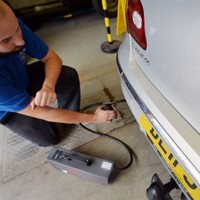 Britain is to review the "clearly inadequate" way cars are tested and approved.
The inquiry follows the Volkswagen diesel emissions test-rigging scandal.
A powerful parliamentary transport group says such an overhaul would give people buying a car much-needed peace of mind, after revelations which have shaken public confidence.
The committee says its inquiry will go beyond exploring how emission levels are checked and passed. Noise and performance will be among the other aspects examined.
Louise Ellman MP, the group's chairwoman, spoke on Monday about a "significant" gap between lab test and real world emissions.
The Labour member says it is "essential" that allegations are investigated and that both the EU and British government take follow-up action where necessary.
Europe has already announced that it intends to introduce tougher emissions testing . Officials hope the incoming test procedures will mirror conditions on the road by the end of 2017.
The UK's vehicle-approving body is the Vehicle Certification Authority (VCA). The Westminster transport group will be looking at how well or not the current testing systems work to ascertain whether they hit EU guidelines.
Some MEPs have called for a uniform, Europe-wide testing procedure and standard rather than being split between individual countries.
Meanwhile, VW's progress on getting to the bottom of the scandal has been slow. It has taken time to find out who knew about the emission test cheating after they were exposed in the US.
The German car giant later owned up to underplaying the levels of fuel consumption and CO2 emissions in Europe. VW believes that about 1.2 million UK vehicles have been hit by the crisis.
Copyright Press Association 2015