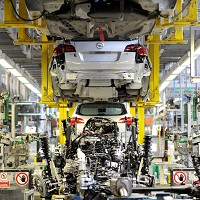 Car production fell in the UK during September due to the lack of demand from Europe.
According to the Society of Motor Manufacturers and Traders (SMMT), car production fell by 5.8%, compared with the same month last year, as 128,192 cars were made.
Down by 20.2% was the rate of commercial vehicle (CV) production, to 9,607 cars, while engine production also dropped by 12.8%, to 213,052.
So far during the year, car production is up 10.2% to 1.08 million overall, compared with the same period of last year, despite the fall during September.
Since the beginning of the year, CV production has gone down 7.5% to 82,315 and 1.88 million engines have been produced - a fall of 0.4%.
Paul Everitt, SMMT chief executive, said: "The strong demand for UK products outside Europe and the investment committed by major vehicle manufacturers will secure future growth, although the coming months will be challenging for companies at all levels in the supply chain."
Copyright Press Association 2012