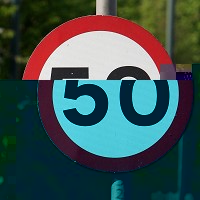 Lorries continue to break the national speed limit, with as many as 85% going over the 50mph set on some roads and three quarters exceeding 40mph limits, figures show.
Cars are not much better, with almost half (49%) going faster than the 70mph limit on motorways and 15% reaching speeds beyond 80mph.
However, the 2008 statistics from the Department for Transport also showed that while 69% of cars broke 30mph limits in 1998, fewer than 50% did so in 2008.
The distance travelled by motor vehicles in 2008 also fell for the first time since 1979, by around 0.8% on 2007. But the figure was still 11% more distance travelled than in 1998.
The miles travelled by cars fell 0.6% last year, while the number for light van traffic, which was down 0.4%, fell for first time since 1992.
The statistics also showed that heavy goods vehicle traffic was down 2.2% last year, and the south-east of England was responsible for 17% of all motor vehicle traffic in Britain during 2007/08.
Copyright © Press Association 2009