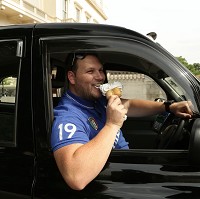 Motorists often face wet, tricky conditions on the roads in September but this month is likely to be one of the warmest and possibly the driest on record.
Very low levels of rainfall in some parts of Britain could mean this is the driest September since records were first taken in 1910.
And with temperatures consistently over the average for the month, the Met Office expects it will be one of the five warmest Septembers in the last 104 years.
Between the 1st and the 28th of the month, 19.4mm of rain fell on the UK - just a fifth of the rainfall forecasters expect in September.
The driest September came in 1959 when just 23.8mm of rain fell in Britain.
Northern Ireland has seen just 6.5mm of rain during the same period, barely 7% of the rainfall it would normally see in September. The country will set a new record if its rain fails to reach 9.7mm - the amount that fell during the month in 1986.
Elsewhere in the UK, England (13.5mm), Wales (11.9mm) and Scotland (33.3mm) are expected to each have their second driest Septembers on record. The records are 7.9mm (1959), 11.7mm (1959) and 31.7mm (1972) respectively.
The dry September comes during what is generally considered to be a wet 2014 so far and there have only been seven wetter Augusts in recorded history than last month, the Met Office says.
The average temperature across the UK in September has been 13.9C, which is just over a degree warmer than forecasters would expect for the month. It won't be the warmest, as the September 2006 had a mean temperature of 15.2C.
Copyright Press Association 2014