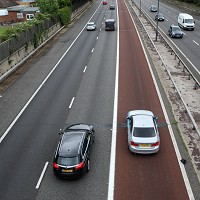 While Britain welcomes Olympics arrivals, around two million people will be heading abroad at the start of the school holidays this weekend.
And for those taking breaks in the UK, there was a promise of better weather, with conditions expected to be warmer, drier and sunnier. Major routes are likely to be busy from mid-afternoon on Friday.
Traffic information company Trafficmaster said routes to the south west of England were likely to be the busiest today, while congestion could also be expected on main routes to the coast, cross-Channel ports and major airports.
Among the routes likely to see the worst jams are the A303 through Hampshire, Wiltshire and Somerset and the M6 through Staffordshire and Cheshire into Lancashire.
Next week Trafficmaster expects that regular commuter traffic will be substantially reduced but traffic around Greater London will be increasingly affected by the final preparations for the Olympics.
The Olympic travel-only Games Lanes will become fully operational from Wednesday in central London.
Copyright Press Association 2012