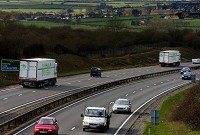 The recession as well as improved road safety measures led to a fall in the number of people killed on UK roads last year, a new report says.
According to a study by Paris-based International Transport Forum (ITF), road deaths in 2008 dropped by 13.5% to 2,645 fatalities - down from 3,059 in 2007.
The ITF said: "Certainly the economic downturn has had a significant short-term impact on traffic volumes in some countries, but the relative importance of traffic volume and (road safety) policy in reducing fatalities can not yet be disentangled with certainty."
A recent government research had revealed that 2008's figure of fatalities on Britain's roads was the lowest annual total since records began in 1926.
The ITF said that other parts of the world have also witnessed lesser deaths on roads during the same period, including 17.5% in Ireland, 13.6% in Belgium, 9.7% in America, and 8.5% in Australia.
While in the US, where even fewer vehicles travelled due to the economic crunch, the net fall in road deaths stood at 6%.
The UK fatality levels fell by 3.7% in 2000-2008, while it was 4% in 1990-2000, 1.3% in 1980-90 and in 1970-80 it was recorded at 2.3%.
Copyright © Press Association 2009