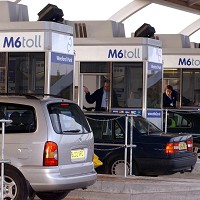 The M6 toll road has only carried around half the number of vehicles it was expected to when it opened exactly a decade ago.
The 27-mile stretch of motorway between Cannock and Coleshill was designed to reduce congestion around the Birmingham area, but road campaigners argue that it has failed in providing a benefit for the local area or the wider UK road network.
TheM6 toll has also been criticised for damaging the environment during construction.
When it opened in 2003, it was hoped that up to 75,000 vehicles would travel using the toll road each day, but currently it just averages 36,000 vehicles on a daily basis. Critics have claimed that the road is too expensive, which has put many motorist off using it.
The RAC believes the motorway has not been as successful as it should have been. Figures for July to September 2013 show an average of 44,462 vehicles used the M6 Toll every day, a 13% increase on the same period in 2012, but an 18% decrease compared to the third quarter of 2004 when the average daily figure stood at 54,237.
RAC technical director David Bizley said: "As the M6 Toll is the first tolled motorway scheme in the UK entirely designed, built, financed and operated by the private sector, it has sadly become a great example of how to do the right thing in the wrong way.
"It could so easily have paved the way for other similar schemes to be constructed, but unfortunately it hasn't lived up to its potential, a point which the RAC thinks the Government should recognise and learn lessons from.
"This is no doubt due to the substantial increase in toll prices over the years which have made it impractical to use on a regular basis. As a result we have a motorway which functions well as a road, but that isn't as well used as it we would like, a fact borne out by the 18% drop in average daily usage as well as the overall rise in traffic using the M6 proper.
"Most HGVs still cannot afford to use it and still take the old route, and local residents cannot afford to use it for relatively short journeys. All in all it has to go down as a lost opportunity to ease congestion properly and demonstrate how tolling could be utilised to finance important road building."
Tom Fanning, chief executive of Midland Expressway, said in defence: "It's ridiculous to say the toll road has not brought any benefits to the area. It carries up to 50,000 vehicles per day, which would otherwise be driving on other roads, so congestion is eased by the Toll road,"
Copyright Press Association 2013