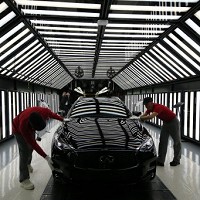 Demand from overseas helped British motor manufacturers reach a new 10-year peak during 2015, with nearly 1.6 million vehicles made, official figures show.
This is 3.9% up on the 2014 numbers, according to the Society of Motor Manufacturers and Traders (SMMT).
Revived European interest has helped to swell the figures, with British-built cars bound for the Continent up 11% on 2014.
Well over half (57.5%) of all vehicles exported from Britain now make their way to Europe.
Mike Hawes, the SMMT's chief executive, says European Union membership is key for the motor manufacturing sector.
This follows news earlier this month that an unprecedented amount of new vehicles hit UK roads in 2015. Sales reached more than 2.6 million over the year - a 6% increase on the previous 12 months.
The SMMT finds that almost 80% of British-built motors went overseas - a 2.7% climb on the year before.
The industry's export market had to weather a massive slump in sales bound for Russia and China.
Demand from the former dipped by 69%, while China bought 37% fewer vehicles - a reflection of the country's slowing economy.
This helped the US overtake China as Britain's biggest source of car exports. American demand jumped by 25% in 2015.
South Korean, Australian, Turkish and Japanese markets also saw a bigger preference for UK cars. Their markets grew by 55%, 53%, 41% and 35% respectively.
MINI was one of the year's biggest winners, raising its output by 12.4% to 201,000 units in 2015, the SMMT reported.
Vauxhall (85,000 models) and Jaguar Land Rover (489,000) increased their share by 9.5% and 9% respectively.
Nissan and Honda both saw sales fall, however. The former's numbers dropped 4.7% to 476,000, while the latter sold 119,000 fewer units - a dip of 2%.
Mr Hawes says that Britain remains among the world's most productive car manufacturing countries.
He says this is down to world-class engineering, a skilled and committed labour pool and vital investment within the industry.
Copyright Press Association 2016. Motoring News articles do not reflect the RAC's views unless clearly stated.