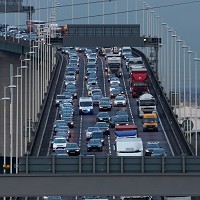 There are only four countries in Europe with traffic jams worse than those in the UK, though traffic problems are improving, a new poll finds.
Last year motorists in the UK typically spent 29 hours a year caught in traffic tie-ups. Abreakdown of the survey results shows that only drivers in Belgium, France, Germany and Holland spent more time stuck in traffic, a poll by traffic information firm Inrix revealed.
With economic difficulties persisting, traffic congestion in 2012 in the UK was 19% less than it was in 2011. Traffic in 2012 in the rest of Europe was also down from a year earlier.
The most congested place in the UK? London's commuter zone topped the list in 2012, leaving drivers stranded in jams for an average of 72 hours, or three full days.
This figure was still a 9% improvement on 2011, when London drivers spent 79 hours over the year sitting in traffic. In 2012 Brussels topped the list as Europe's most congested city, where motorists suffered 83 hours over the year stuck in traffic jams. Antwerp was second most-congested city with 77 hours, and London was third.
In other areas of the UK, Greater Manchester was the second-worst city for traffic congestion. Drivers there spent 45 hours over the year in traffic jams, though this figure was 17% lower than that of 2011. Next on the most-congested cities of the UK list for 2012 were: Merseyside, recording 37 hours; South Nottinghamshire, with 32 hours; and Greater Belfast at 31 hours.
Copyright Press Association 2013