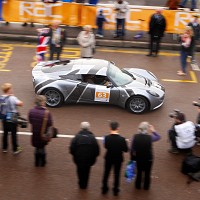 The UK land speed record for electric cars was broken Friday(?) by a car powered by energy from wind turbines.
Nick Ponting, 21, drove the green car called Nemesis and hit 151mph in a run at the Elvington airfield close to York.
This tops the 137mph reached 10 years ago by Don Wales, the grandson of speed ace Sir Malcolm Campbell.
During a first run in the morning, Nemesis broke the record reaching 148mph. Then the young Ponting improved upon that in a later run when he hit 151mph.
Motor Sports Association ratified Friday's record-breaking accomplishment at the track.
The manufacturers of the car call it the UK's first electric supercar. Their hope is that Nemesis will "smash the stereotype" of electric cars being slow and stodgy. By entering the record books the car makers hope to achieve a breakdown of tired thinking about green-powered cars.
Dale Vince, the founder of green electric company Ecotricity of Stroud, Gloucestershire, is the brainchild behind Nemesis.
"This is brilliant. We built the Nemesis to smash the stereotype of electric cars as something Noddy would drive - slow, boring, not cool - and I think we've done exactly that today," Mr Vince said, adding:
"Hopefully this will further stimulate debate about the future of transport in Britain and how we'll be getting around when the world runs out of oil."
Copyright © Press Association 2012