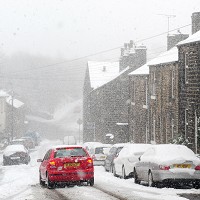 Overnight snowfall has left parts of the country under a white blanket, with as much as four inches falling in certain areas.
Most regions from Scotland down through to south-east England have been hit with a covering of at least two inches of snow, while north England and the Midlands are said to be the most affected with almost double the amount of snow.
It has prompted fears of ice and disruption on the roads during rush hour, although the snow is not predicted to hang around for too long.
"There are reports of nearly four and a half inches in High Wycombe, and even up to an inch in London," said Nick Prebble, a forecaster for MeteoGroup, the weather division of the Press Association.
"The snow will linger in the early morning before slowly easing and being replaced by rain in many places."
He added the snow is set to thaw quickly, therefore limiting disruption. But this should not deter motorists from making sure they are protected on the roads.
Wintry conditions can often see cars in trouble, so it is important to make sure that you have adequatebreakdown cover in case you find yourself stuck at the side of the road.
Copyright Press Association 2013