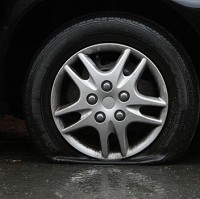 A new study has revealed that a surprising number of drivers are not prepared for the possibility of getting a flat tyre, with some not even knowing if they have a spare.
Around 26% of motorists sustain a puncture every year and the latest survey, conducted by Kwik Fit, found that 36% of people have the equipment to deal with one but do not know how to. Some 10% have a spare tyre but do not have the tools to fit it.
Kwik Fit's communications director, Roger Griggs, is concerned by the findings.
"It's worrying how many drivers don't know what provision they have for a puncture, but it's even more of a concern to see how many have absolutely nothing in their car to deal with a deflated tyre," he said.
A tenth of the 2,027 people questioned also confessed to not knowing what type of tyre they have as a spare, while 4% admitted that they did not even know if they had one at all.
Copyright Press Association 2012