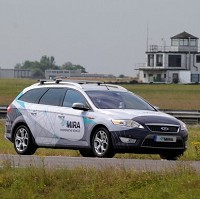 British drivers appear not to share the same enthusiasm for semi-autonomous car technology as their European counterparts, a new Ford study suggests.
Its latest Car Buying Trends report reveals that only one in five UK motorists buying a car from Ford chose models with parking assistance aids installed.
Drivers from just five of the 22 nations examined are more reluctant to place their faith in semi-autonomous driving devices than us, the study suggests. This compares to a third of Ford cars sold Europe-wide.
Switzerland leads the way with 72% buying Active Park Assist-equipped motors. Six out of 10 Ford car buyers in Spain, Holland, Germany and Norway have opted for this tech, which employs sensors to help guide the car's steering mechanism into parking bays.
The results come as ministers try and place Britain at the hub of the revolution towards driverless vehicles. In July ministers ploughed a fifth of its £100 million "intelligent mobility" research into a pot committed to trailing driver-free motors.
The Government sees huge benefits in autonomous cars, such as helping pensioners to continue driving - especially in rural areas where poor transport links can leave them isolated.
Last year it earmarked Milton Keynes, Greenwich, Coventry and Bristol as four testing centres for such cars this year.
The autonomous car sector is big business with Apple and Google joining the development race alongside traditional motor manufacturers.
The industry is likely to be valued at an estimated £900 billion worldwide by the middle of the next decade, helping to boost Britain's economy by £51 billion.
Ford's study suggests that UK motorists have not yet embraced the move towards autonomous cars.
Only 42% of UK owners have bought Adaptive Cruise Control-installed Fords compared with over half of European buyers.
Under one in 30 UK drivers (3%) have opted for either Active City Stop or Lane Keeping Aid tools. This compares to almost six in 10 Norwegian and Swedish motorists who have chosen the former and 51% of Swedish owners who have picked the latter.
Active City Stop applies a car's brakes automatically in the event of a motorist not responding to the cars in front quickly enough. Lane Keeping Aid warns motorists if they go out of their lane.
Copyright Press Association 2015