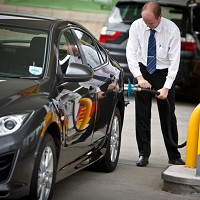 UK motorists are being denied an easy way of almost halving their fuel bills currently enjoyed by millions of their European neighbours, it has been claimed this week.
As many as 20 different firms offer cars run on liquid petroleum gas (LPG) directly from the showroom in mainland Europe.
Not one manufacturer provides access to a new car in the UK capable of running what is currently a far cheaper fuel, however.
LPG costs little more than half the price of diesel at most filling stations that offer it.
LPG-capable vehicles can also run on traditional unleaded petrol.
This means that any fuel station can be used to stock up and they effectively have limitless range in any country with a reasonable refuelling infrastructure.
Autogas, which supplies LPG, says abreakdown of its own survey shows that 97% of bi-fuel car drivers plan to replace their vehicle with another that can benefit from the lower fuel bills.
Linda Gomersall, general manager of Autogas Ltd said that millions of motorists on the continent take advantage of the lower price of LPG as they have the chance to buy an LPG bi-fuel car straight from the showroom.
Copyright © Press Association 2013