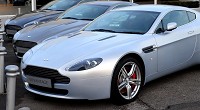 A new poll has revealed that nearly one in 10 motorists say they care for their cars as much as they do their family.
In the survey of 1,271 people by car-finding company Carmony.co.uk, 33% confessed to being "very fond" of their vehicle, while 23% said they even spoke to the cars.
As many as 20% have given their cars a pet name, while 3% even show their affection by kissing the machines.
Many of those surveyed admitted trying to protect their vehicles, with 21% using two spaces in a car park, and 4% covering the walls of their garage with carpet or other material to prevent scratches.
Motorists also said they kept pictures of their wheels with them - 8% on their mobile phones and 5% in their wallet or on their computer.
Nearly half of those polled admitted to having slept in their vehicle, and 44% said they have had sex in a car.
The most popular company in terms of cars owned was Ford, followed by Vauxhall and Peugeot.
Paul Coleman, Carmony.co.uk marketing director, said it was not surprising that British motorists love their cars as it is often the second most expensive purchase.
"However, some behaviour such as stroking the dashboard and hugging the bonnet could be perceived as a step too far."
Copyright © Press Association 2009