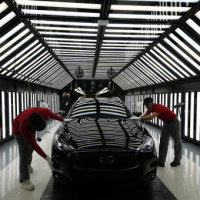 British car manufacturing is up an "impressive" 13%, according to official latest numbers.
February saw nearly 147,000 vehicles built in the UK compared to the same month the previous year, the Society of Motor Manufacturers and Traders (SMMT) finds.
This represents a 17,000-plus jump on the February 2015 statistics.
It means that British factories have already produced 284,507 units over the opening couple of months of the year.
This is 10% up on the same period last year.
The ratio is roughly five-to-two between exported models and those built for domestic customers. This works out at 100,000-plus vehicles going abroad and 42,000 destined for UK showrooms.
The figures build on the . A total of 1.6 million units were built, the highest for 10 years.
The recent success is a complete turnaround from only seven years ago. That February a post-recession Britain failed to manufacture even 60,000 vehicles.
The chief executive of the SMMT, Mike Hawes, calls the growth "impressive". He says demand from foreign and home markets alike is up.
Mr Hawes remains optimistic for the future, but says much is dependent on future financial and political trends.
Copyright Press Association 2016. Motoring News articles do not reflect the RAC's views unless clearly stated.