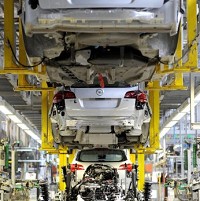 UK car production in May was lower than in the same month last year, the latest figures have revealed.
There were 129,355 cars produced in May this year representing an 8.4% decline from May 2012, according to the Society of Motor Manufacturers and Traders (SMMT).
The figure marks a sharp contrast from the previous month, with April 2013 production a substantial 16.6% higher than April 2012.
There was also a fall in commercial vehicle production last month, which dipped 20% to 7,560, while engine production was down by 8.2%.
SMMT interim chief executive Mike Baunton put the declining output down to "weak" levels of demand in Europe.
UK car manufacturing in May was nevertheless still higher than 2007 levels, he pointed out.
"Production levels are holding firm for the year so far, testament to the appeal of UK-built products around the world and significant growth in volumes built for the home market," he added.
Copyright © Press Association 2013