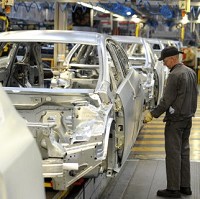 There has been a small decline in UK car production figures but the industry is said to remain in "robust" shape.
A total of 137,458 cars were made in the UK in February, which is 0.7% down on the same month last year, according to data from the Society of Motor Manufacturers and Traders (SMMT).
However, the total for February last year was a huge 26% up on a year earlier.
There was also a 17.1% fall in commercial vehicle production last month as Ford ran down its production, while the figures also revealed a 5% decline in engine production.
When the first two months of the year are taken together, however, it appears there is continuing demand for new cars with many motorists tempted to get a car insurance quote and opt for the reliability of a brand-new vehicle.
In January and February combined, car production was up 0.2% alongside an 18.8% fall in commercial vehicle production and a 5.1% fall in engine production.
SMMT interim chief executive Mike Baunton described it as "pleasing" to see the figures remaining "robust" following on from the exceptional rise a year ago.
He cited the economic problems across mainland Europe as key to the challenge faced by makers of commercial vehicles but said "independent forecasters expect to see more sustained levels through the rest of the year ahead".
Copyright © Press Association 2012