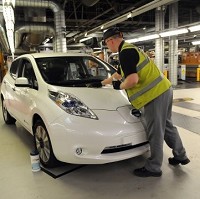 Over 136,000 cars were produced in the UK last month, according to official figures.
The Society of Motor Manufacturers and Traders (SMMT) said that June's total was 136,419 - some 3.7% higher than the same month in 2013.
In the first half of 2014 there has been a 1.9% year-on-year increase in the number of the cars produced for the home market, while the number of exported cars is up 4.0%.
In total 791,314 cars were made between January and June, a total around 3.5% higher than the first six months of last year.
SMMT chief executive Mike Hawes said the growth in UK car production has been "steady".
"With several manufacturers having started assembly of new models this year and billions of pounds of investment still to reach production fruition, this is an exciting time for the UK automotive sector," he said.
"However, with this growth comes a need to bolster the domestic supply chain and address major skills shortages; both of which the UK industry is committed to addressing."
Copyright Press Association 2014