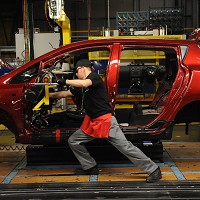 Annual car production in the UK is on course to pass the two million mark by 2020, it is predicted.
The highest number of cars to roll off the production line in a single year stands at 1.92 million, set back in 1972 when the Ford Cortina was in its prime.
But the Society of Motor Manufacturers and Traders (SMMT) expects the record to be broken before the decade is out.
More than 1.5 million cars were built in the UK last year, making it the third-largest car maker in Europe behind Germany and Spain - and the forecast is for the total to keep increasing over the next five years.
Global demand remains high, particularly when it comes to the wide range of luxury motors built nationwide.
As a result, car production by premium manufacturers is expected to increase from 37% in 2010 to 54% by 2020. This could create up to 9,500 jobs at manufacturers, plus an additional 28,000 jobs in supply companies.
SMMT chief executive Mike Hawes describes the prospect of further jobs growth as extremely encouraging. He says significant investment, along with partnership with government, has driven huge growth in production and employment in the UK's automotive industry in recent years.
The forecast depends on global market conditions and the prospect of future investments, which assume the UK will remain in the European Union.
Copyright Press Association 2015